REVERSE MORTGAGES, CON'T.
PLUS
MEDICARE RX PLANS CONFUSION!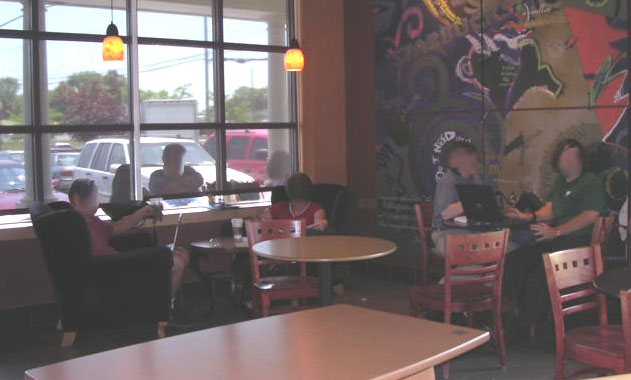 My favorite place to comfortably chat with the anonymous undetectable homeless is a Starbucks café which has padded chairs, sofas, tables, and no personnel interested in "timing" our usage. This is one which I have used often. There are also outdoor tables and chairs for weather-hardy people. Further, it happens to be an "end unit" with views to open spaces and seasonal greenery or wintry scenes. When I'm lucky, I have at least two or three women sharing their experiences. This is not a typical situation since anonymity is their means of survival. We can't keep people from talking and outing secrets….Food-related scenarios are my best chances for obtaining really personal information. I'm getting even more adept at gathering two or three to talk with me, which is the first attempt to get several to share a tiny physical and psychological "community."
I need to explain more about the unfortunate misunderstandings about Reverse Mortgages. Yes; if you are about 90, have almost paid off your mortgage, and expect to die there soon, it definitely has advantages. But, for the general public, RMs have major Sign Posts saying BEWARE! I'm more perturbed by the actors who are pushing this dangerous scheme to the general public; we are influenced by celebrities…as if they know more than we do.
The methodologies used by the RM companies are changing. HUD is supposed to be in charge. Is HUD in charge of your RM? Now the government is allowing ANY company to offer such "solutions" to remaining in one's home without paying a monthly mortgage payment. There seems to be NO consistent ruling about what can be offered, and while the government is supposedly approving the RMs, just try to get the government to step in when something goes wrong!
Since the RM companies have differing rules for obtaining "no monthly payments," here are some topics one must understand:
You must have paid off at least 50% of your mortgage. Usually, it's more like 80%. If you had a $100K mortgage and still owe $79, you aren't qualified. But some companies say they "can work something out." BEWARE.

Your house is valued by the RM COMPANY'S appraiser, not your county's appraisal or the insurance company's value. There are MAXIMUMS on lending limits…and they are different between states and even counties within a state. I'll just say that in my zip code, with over $500K homes, the lending limit is only $285K.

Interest rates come into play. The rates are ADJUSTABLE, not fixed, and are tied to the one-year Treasury Index. Do YOU really understand all of that? (Most people do not!)

The older you are, the more you can borrow. But remember the lending limits! Your house may be worth much more than that!

In initial advertising, there is no mention of the many costs to be paid by you before you get a RM. You must pay for THEIR appraiser, all credit reports, inspections, Title insurance, legal fees, loan origination, recording fees and all closing costs. Start to count up those and you are looking at many thousands of dollars. If you really have that kind of $$, you could probably work better with a bank for a home equity line of credit or a second mortgage. Remember that the RM company must be the first one in line for a lien! It is very rare that one can get a RM with a second mortgage.

So, now you have a RM. You think that you get a lump sum every month for amounts OVER your mortgage payments. Why? Because all of the advertising shows "you" on vacation in Hawaii or something similar…and your credit card payment is shown as paid. It seems that you can not only get relief from the mortgage payment, but more money to play with. Hah!

Be aware that you must conform to the company's standards for how THEY think your property must be kept up. If you don't think you need a new roof and THEY do, you have to pay for one. If a street or sidewalk needs repairing, YOU may have to help pay the expenses. The same with the interior. Don't forget you have to pay for your increasing property taxes, provide property insurance, and pay any extra county and town taxes. You are at the mercy of the RM company's rules…and they differ. After all, THEY really "own" your house even if they say the opposite. Sure; you are the titular owner, but it's a lien and must be repaid after you die or move or sell. You are supposed to have money to pay everything you borrowed from the lender….plus interest and other fees. If you are so poor that you need this RM, where is the money to repay huge sums? Naturally, the RM company hopes to take your house….

If you are married, remember that both parties have to be over 62. Make sure that the oldest member is the party to take out the RM.
LOTS OF LUCK. You'll need it….
ON TO THE EVEN MORE CONFUSING NEW (FOR 2007) MEDICARE RX PLANS
First, you must understand that every state has different plans and costs. The plans are created to confuse. Even the Medicare personnel who are supposed to help you don't know what is going on. They refer you to your local pharmacies. They seem to change "terms" monthly. I have received so many "updates" that I finally figured out the way to determine what to do.
Consider the most current brochures that show up in your mailbox and try to understand exactly WHICH plans are available in your area. Look at the deductibles and the "donut holes." Do you have enough money to pay for the plan that seems to be the best for your life? Probably not, but pick one and then add everything together: the cost of the Plan and the co-insurance policy cost.

Don't faint when you see how much money will be taken out of your Medicare for 2007 – and the LOW increase in Social Security payment. I seem to lose about $4 a year! Then note the increased amount of money for the Plan you want. Then add up the costs of your medications. Remember that some are not in the Formulary and you will have to pay the retail price. After you add up what you get and what you pay now, consider:

Some large pharmacies in some states are now charging $4-$6 for a few generics. They are usually just for a month's supply, but if you can find a pharmacy which will accept a six-month supply, you'll save some money. BUT

Watch out for the "donut hole." If you are now spending about $1400 a year for meds, think about how much you MIGHT have to pay for a new illness (e.g., diabetes, heart trouble, asthma, high cholesterol, migraines, cancer). If it will send you to $2400 a year, YOU will have to pay 100% for all of your medications! Ask how much any possible med will cost. If your Plan goes by Tiers, pay attention to which Tier YOUR med will be on. You may end up paying less at Wal*Mart than paying hundreds of dollars a year more to join a Plan. Remember that each state and even area (as in rural, which is usually more) has its own rules for playing this government/AARP conceived "plan" to make life less expensive for you. There is NO WAY that this is in your best interests unless you have many thousands of dollars of medications a year and come into a Plan that pays for almost all of your costs. Most people are "on the brink" and you just have to do the math. If you can't, go to a few pharmacies and compare their opinions and costs. Or, get one of your kids to do the math…or send one to college for an MD or Pharm.Ph.D.
I'M WORKING ON MY FIRST ACTUAL COMMUNITY OF RV DWELLERS.
IF YOU ARE INTERESTED IN THIS TOPIC, PLEASE EMAIL ME…. (islandr@goeaston.net)
I'LL BE BACK SOON WITH MORE STORIES FROM ANONYMOUS, SELF-SUFFICIENT PEOPLE. SOME HAD LIFETIME JOBS WITH BENEFITS…BUT WERE SOMEHOW "SCAMMED" OUT OF A NORMAL RETIREMENT PACKAGE. THEY ARE FINDING WAYS TO RETAIN THEIR DIGNITY, BECOME SELF-RELIANT, AND EVEN TRAVEL WITHOUT A REVERSE MORTGAGE! Marjorie Bard
INNOVATIVE COOKING ON THE ROAD:

click to see next cyberlog