Down and Out in L.A.
by
Benford Earl Standley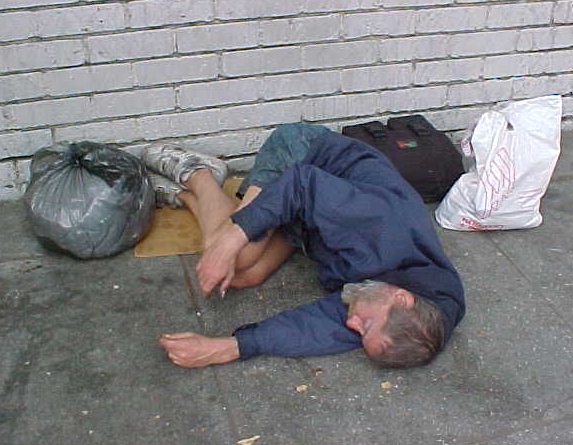 Cardboard People

Blankets and boxes
Protect the sleep
Cover the pain
Rest on the concrete
Blankets and boxes
Blankets and boxes

Cover the pain
d

Cement and cardboard
shiver on the stone
rest on run
sleep where I can
find my cardboard
before the sun goes down

I fought and I lost
I got hurt and I lost
I went to war...now I lay here
Shade and flowers...
Hurt and tired
This is the thanks


"Happy is the man who feeds the poor" Proverbs
d


OH, THERE, BUT FOR THE
GRACE OF GOD LAY I...


Beyond Mad Max
d
Those elements include the approximately 11,000 people who live on Skid Row, about 3,000 on the streets
on in shelters, the rest in hotels. They, far more than area businesses, bore the brunt of the government
cutbacks that began in the Reagan years. "This is the tail end of the whole system," says Jeff Dietrich.
Those who fall through the gaping holes in what was once comfortingly called the "social safety net"
have to land somewhere. In L.A., wherever they land, they often end up downtown and on Skid Row,
which has become, by more or less conspicuous policy, the city's dumping ground for problems it would
rather keep out of sight. Virtually all of Los Angeles' social-service providers that offer help to the homeless
are within a few blocks of each other on the Row. But what's been created, according to Alice Callaghan,
is more than the chaos of cardboard shanties visitors view from behind locked car doors. It's a community,
abet one with more than its share of problems. "People know each other. People have been here a long time,"
Callaghan says. And because people have nowhere else to go, "More than any other place in L.A., public
space is important here."

Los Angeles Times in May 2001, while I roam the streets of an American city...
d

a night that was afraid a night with a mass of suffrage
a night of strange sleep a night of hell the morning came
i thought of jumping to some dark side of escape...
dd

Where is the tax money?
Where is the Church?
Where is God for these people?
Where is compassion?
Where is brotherly love?
Where is help for the less fortunate?
Where is Red Cross?
Where is Blue Cross?
Where is any Cross?
Where is my brothers keeper?
Where is Human Services?
Have we lost our humanity?
;

Lost in time...forgot to think where I could stay
Until the sun had set, like a crazy lost soul I
walked the street looking for blankets or an
old mattress, something softer than cardboard...
I view a couple of old couches before I get an
old door and make a soft shelter on this night
in May in some alley in Hollywood. Buffalo

The U.S. citizens sleep on the card board from
boxes shipped into the United States from all
over the world.

Hobos, bums, vets, bag ladies, hippies, runaways, drug
dealers, somebody's grandmother lying there on the
pavement...old winos and men without identity, drunks
and lost souls, mentally ill and mentally challenge,
crazy and insane, lost and alone...men, women and
children look for a safe place to lay their heads...


The grocery cart is very very important to the
homeless. As to all of society, possessions are
very important, the cart allows you to walk around
the city and keep your possessions close to you.
Especially your blanket, extra dry clothes, food.
To take these peoples carts is a sin itself.

I had a idea and began the drawings and work
on a cart that we could build and give out to
the homeless, then they would not have to
take the grocery carts from the stores. Maybe
even Ralph's, Albertsons and some of those
stores could foot the bill for the City to build
these carts. The cart is very important to the
homeless.





One mans trash is another's
riches...trash can be the
only thing that you own.
Some people eat and need
what many of us call
TRASH

Well you roll on roads over fresh green grass.
For your lorry loads pumping petrol gas.
And you make them long, and you make them tough.
But they just go on and on, and it seems that you can't get off.

Oh, I know we've come a long way,
We're changing day to day,
so tell me, where do the children play?

Cat Stevens

Cardboard Shanties



if you have any poems
and/or writing about your
experiences being homeless
please email us...
StudioClub is going to
create an online and ongoing
poem book by the homeless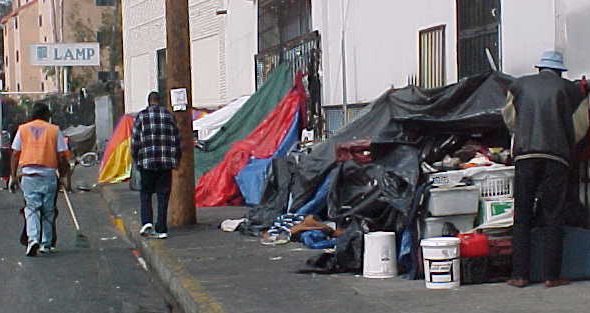 "It's only castles burning."
Neil Young
f
Please visit our pages
on the fate and state
of homeless, runway
and missing children
and youth in these
United States of
America...
then weap


Please visit some on
the links on this page
PLEASE!!!!!!
visit them and
come back for pictures from the homeless nights

LOS ANGELES - A report released Thursday that provided new details on the region's homeless population prompted Mayor Antonio Villaraigosa to call the nation's second-largest city the nation's "capital of homelessness."

The report by the Los Angeles Homeless Services Authority estimated that 82,291 people were homeless in Los Angeles County on any given night in 2005, with about 48,103 of the county's homeless living within Los Angeles' city limits.

The estimates mark the first attempt to gather detailed data on the homeless. The figures will provide a benchmark to evaluate the effectiveness of programs to curb homelessness, officials said.

The study also reported that California's estimated homeless population of 195,367 is the highest in the nation. Forty-six percent of the state's homeless population is located in Los Angeles County, according to researchers, who determined that one of every 110 people in the county are homeless on any given night.

"This is the capital of homelessness in the United States of America. It dwarfs the homeless problem anywhere in the state, and the city of Los Angeles is ground zero for it," Villaraigosa said.

The survey estimated that about 49 percent of the county's homeless population could be considered chronically homeless. JAN. 06 YAHOO.COM

Give to programs that help the homeless Talk to your church about helping.
HELP AND GIVE!!!!

p

"TRUTH IS LIKE A TORCH... FROM IT WE SHIELD OUR EYES
FOR FEAR OF BEING BURNED"
in the sand

In Their Own Words
Poems and words from the streets


Down and out in L.A.
an ongoing saga of the homeless
"The poor is not he who is without a cent, but without a dream" - Dale Broner.